We would love to have your group back to sing at our Spring Carry-In if that's possible.  This takes place on March 6th at noon.  (Council on Aging in Celina, Ohio  217 Riley Street)  We would have you perform at about 12:45 - 1:00 Sure hope you can do it.  We had a huge positive response to your last visit.  Many thanks!

Karen Howick

Mercer County Council on Aging

217 Riley St.

Celina, OH

419 - 586-1644

Executive Director

Timberwoods Church service (Nita Habegger)

Thanks a lot!  We really appreciate it.  I'm sorry we will not be able to hear you as it is always so enjoyable.  We hear you from out campsite many Saturday nights and it always sounds so good.

Karen Todd - Gospel Barn

Hi Gloria,

It's good to hear from you.  Sure hope your summer is going well and your ministry too.  It has been the busiest summer we've ever had.  Sometimes I don't know if I'm coming or going.  Ha!

We sure enjoyed having you come sing and play at the

Barn last month and we're looking forward to seeing you again.

Blessings!

Karen


Click on the card to view a comment & Thank You from the village of Ohio City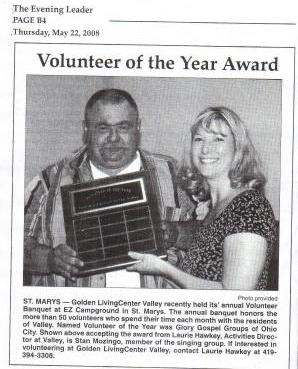 The Glory Gospel Group was honored as Volunteer of the year with an award for the Golden Valley Living Center. Giving the award to Stan is Lori. The group has been volunteering there since 2003. We are honored to have this award.

Photo submitted by W.Huber  5-22-08

A Penny For Your Thoughts...

By Nancy Whitaker

Frogs and snipes

I am quite frightened of different bugs and creatures, one of them being frogs. I have heard old sayings about toads and frogs from my mama and grandma, so I never had the desire to hold a frog or kiss one.

The distinctive call of the bull frog was enough to frighten my daughter when she was little. She'd cry every time she heard the sound of bullfrogs. On summer evenings you can hear the songs (croaks) of the frogs in the local ponds.

However, I think a frog is just plain creepy looking. Can you believe that some folks actually go "froggin" and that there is actually a day that frog hunting season begins?

Some say there is nothing more fun than trudging around at night, in the mud, on the banks of a river, flashlight in hand, trying to catch frogs. Oh, by the way, anyone who is interested, the first day of frog season is June 30.

From what I understand, bull frogs are the ones that froggers target. They say they are easy to spot, because they have reflective pink eyes and can be seen easier.

Now, what do people do with all of those frogs they catch? You probably already know. They eat them! I can't imagine people actually eat frog legs. In fact, some places they are considered a delicacy.

Approximately a month ago, a gospel group was singing at Uncle Fudd's in Melrose. Uncle Fudd's happen to serve frog legs and believe it or not they are a pretty hot item on the menu.

My friend, Gloria, happens to be a singer in the Glory Gospel Group, and somehow she and I got talked into trying frog legs. It was a hard decision to try them, but we figured that would give us bragging rights to actually say we had eaten frog legs.

First we looked at the frog legs before they were cooked. They actually looked like they had toes on them. They were two hind legs connected together and looked like they were ready to hop.

Owner Wendy, cooked the frog legs up for us and then it was eating time. As Gloria and I looked at our cooked froggie legs, we smelled them and prayed that we could do this. About that time someone made the noise, "Crooakkkk. crooakkk"

We stuck the frog leg in our mouth, managed to chew, and then did a big swallow. We did it! We could now brag that we had eaten a frog leg. What a proud moment.

If you do cook your own frog legs, I hear they can jump out of the pan when they are being cooked. Is this true? People say frog legs taste like chicken, then why not just eat chicken?

I know we eat chicken, cows, and pigs, but eating frog legs just doesn't seem right. I just could never eat an animal that I was familiar with or knew. It's just the thought.

My distaste of frogs go beyond the eating part. I'm not a frog collector, frog lover, frog kisser or a frogger. Oh by the way, I was just invited to go Snipe Hunting. Is this better than frogging? I'd rather try that because I was told that all I have to do is "hold the bag."

Have you ever went frogging? Have you ever cooked or cleaned frogs to eat? Have you ever ate frog legs? Do you know anything about snipes? Let me know and I'll give you a "Penny for Your Thoughts."

10-5-08 Rev. Andrew Isch - Macklin Chapel (Bearcreek Farms)

" I always look forward to when the Glory Gospel Group is coming to our little Chapel. I trust God will continue to Bless each of you and your ministry. Pastor Andy said "When ever I needed a little lift I would listen to the Glory Gospel Group cd "Live on the Porch"

I wanted to say thanks again for being a part of our staff celebration. You folks made the evening and were awesome. I can not say enough. Tim Tuttle, our worship leader, said he would like to get you for one of our services in the future.

Thank you again Bill (Wayne St Methodist Church-St Marys 12-11-08

Just wanted to say what a blessing you are to the people at Valley Golden Living Center. My mother is a patient there and I always make sure she gets to see you. It is so good to see all the residents smiling and tapping their feet. Keep up the good work!!!  God Bless You for your ministry.                

Praise God

Sharon Wells 5-2009


Thank You Card

from the Lockhart family

Wanted to thank you again for the wonderful evening. You guys are awesome and the event exceeded my wildest expectations. We counted over 80 people.

Linda & Bill H.

(St. Marys Circuit outing 7-22-09)